Cluster Bubble

Spatial Thoughts on Traces of Human Presence
Studio Omstand
28/05/2021 - Written by Robin Speijer



This month we got to visit Studio Omstand again to see their new exhibition! The title is a long one, but it's an accurate catch all term for the wide variety of works displayed. Cluster Bubble is a series of exhibitions that explores a different medium each time, which for this exhibition are spatial works like sculptures and installations. They all reflect somehow on public space and how people move within it.

The first room showed the works of Evita Vasiljeva and Laura Kaminskaité. Laura's work consisted of neon tubes that hung on one of the walls. They were smoothly curved and shaped, intersecting with themselves. This made them look somewhat like quick pen scribbles you might make in the margin of your notebook to test your pen. It was quite a contrast with the usual straight and practical look of neon tubing that you may encounter in any city. These lines wanted to dance and play on the wall instead of directing you somewhere.

On the other side of the room stood Evita's work. A tall pillar of concrete, with steel wire of reinforcement coming out from all sides, standing opposite to a framework of just the steel that almost mirrors it. The concrete has architectural elements like arches in it. It's like a frozen moment in a process: It could be under construction, but also in the middle of being torn down. It made it look raw and graceful at the same time.








Laura Kaminskaité
Evita Vasiljeva
In the next room the floor had been merged with added wooden plating by Ricardo van Eyck. This made it as if you were walking into a machine room or construction place. On the walls were three large metal satellite disc shaped structures, pointing in various directions. On the metal plating there's lines and shapes of objects visible, which seem to be etched into them. Ricardo pushes his work to the edge of what can still be considered a painting. Even though discs were made of metal and formed this huge installation, the etchings and shapes had a painterly quality to them.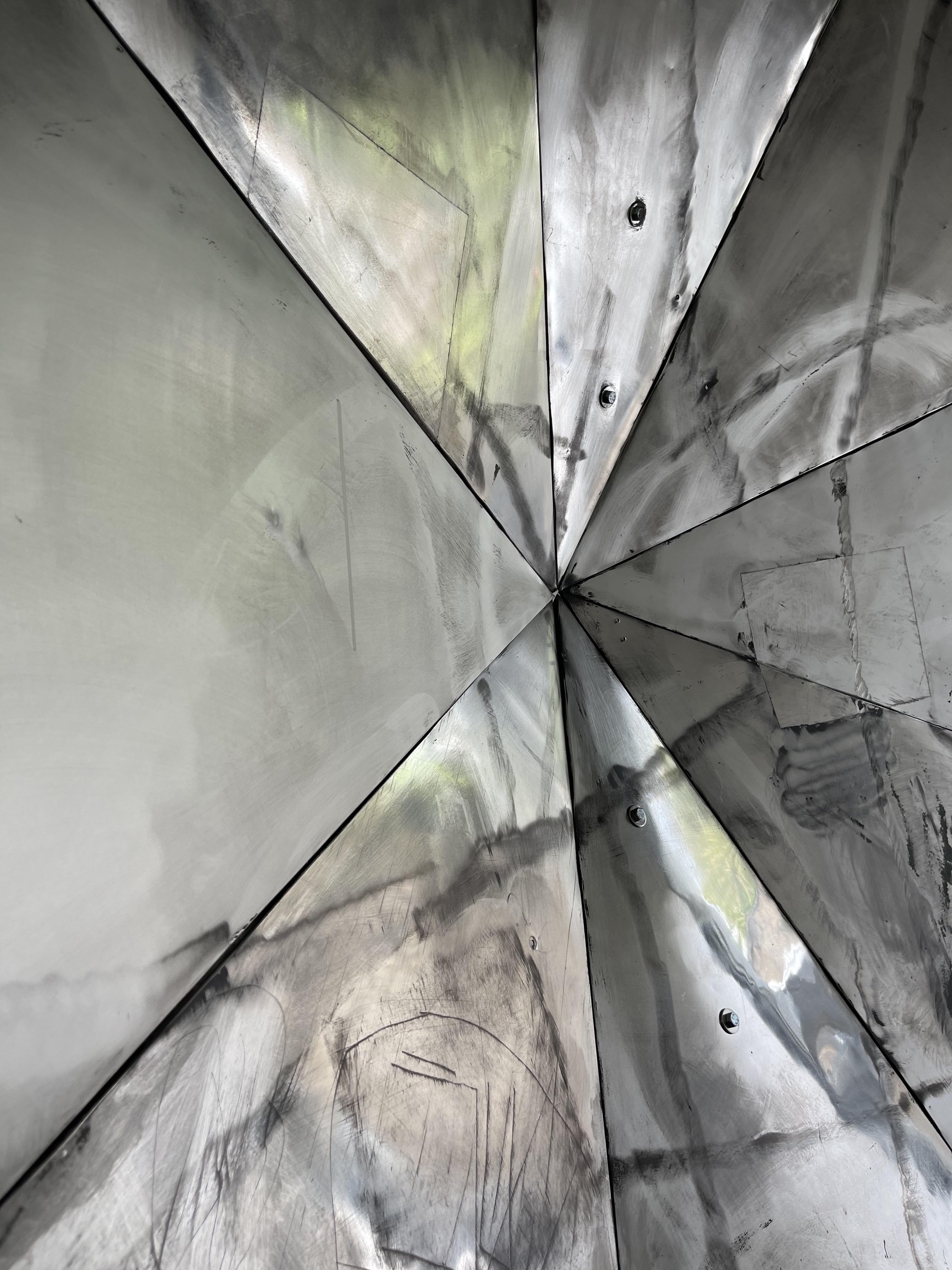 Ricardo van Eyck

In this room there was also a display showing a video work by Jeroen Jongeleen. In it, you can watch Jeroen jogging in the same exact perfect circle over and over in a meadow located at the front of Sonsbeek park in Arnhem. His path is engraved into the grass. The circle's edge overlaps with a fence, creating a line through the circle and a barrier for Jeroen. Hopping over this fence increases the amount of effort he has to put in to keep going. The perspective of the camera switches occasionally, showing the environment, changing shadows, people walking by. It's mesmerising to watch while this temporary drawing is created in the grass. Especially when you keep in mind it is actually a person running there in a perfect circle and not a robot that's been programmed to do so.

Then we were greeted by multiple works that seemed to come straight out of a freakish dream about an office. We were startled by a plant that vigorously started to shake as soon as we walked in. This was a work by Annegret Kellner. The plant stood on a vibration device, usually used by people in fitness halls, which was triggered to start when a movement sensor detected someone in the room. The plant, a Ficus, is known to be stress sensitive. Rob Groot Zevert, Omstand's owner, told us that Annegret had thought more leaves would have fallen off by now, that it apparently wasn't such a stressful experience. Visitors had also expressed they felt bad for the plant (so did I) or that it was cruel. Yet people also buy flowers, that they know are harvested and cut only to wither within a few days. It's interesting to see those reactions to this work, just because it's not something you see every day.

Annegret Kellner
Vanessa Henn
In the same room were arm rests, seemingly from staircases, attached to the walls. They were made by Vanessa Henn. One almost seemed to melt and turn back into raw unshaped rubber as it came off the rail and curled up on the floor just below. Another was vertical, crossing over itself and forming an unusual shape. They were both clearly recognizable as armrests, but had truly become something else. Vanessa had transformed these everyday objects into melting, flowing sculptures.

Then there was the battery room. Here were sculptures on view made by artist duo Sander Breure and Witte van Hulzen. They were human shaped figures, one sitting on the floor, and the other on a washing machine. Their heads were made of ceramics, and they were normally dressed as if they were actually human. At first glance it felt kind of uncomfortable to look at them, these imitations of ourselves. But then Rob told us their names, Marie and Mees, one was based on the workplace guide at the Rijksakademie where the duo had a residency, and the other on a nephew. This immediately made them more human, and less creepy to be around. However, this weird and unequal balance remained as we looked at them and they never looked back at us.

Sander Breure & Witte van Hulzen

Lastly there was the pavilion. It was almost a temple of sorts. The floor had been covered with grey gravel, and various objects were placed around. A lot of these were made with simple materials, like wood, plaster, styrofoam and skewers. In the corner stood a wooden altar with a candle, which Rob lit when we came in. Yair Callender had made these works. He was researching through the material what a 'monument' actually was. Did it need religious aspects? Does the material have to be expensive, or can it also be cheap? By covering the ground with gravel all the separate objects became one installation.

Yair Callender

It was very refreshing to see such a variation of works together. Unlike the exhibition we saw before (Monumentum), there was no clear harmony here at first glance. It all lies in what the artists are fascinated by, and not so much in how that visually comes to fruition. The exhibition won't be on few all that long anymore (just until the 30th of May!), but if you can drop by these last few days, we can recommend it! You can book your timeslot
here.